An Invisalign CBCT Provider
Help us say hello to our new iTero Intraoral Scanner and goodbye to impressions! That's right! For the majority of our patients, impressions will be a thing of the past thanks to our new scanner! It's a quick and painless process that results in better fitting retainers and allows us to deliver your retainers the same day we take your braces off!
We've merged the magic of cutting-edge 3D intraoral iTero scan images with the power of advanced 3D cone beam computed tomography (CBCT). This technology allows us to create a complete virtual model of your face, teeth, roots, bone, and jaw structure. This game-changing blend of information allows me to plan your treatment with an unparalleled accuracy and effectiveness. It allows me to create treatment plans that are customized to your unique biology, which leads to better results and reduces the risk of complications like recession and root reabsorption. Your journey to that dazzling smile you've always dreamed of? It starts here.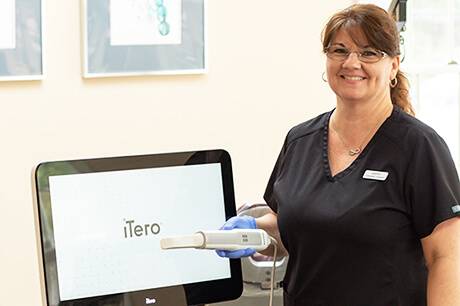 Get social with us and follow us on Facebook, Instagram, and Pinterest to stay connected, share your pictures, and be entered into other fun office contests!